So let me guess, you are getting married! Well, that's obvious as you landed on this page! The beauty of a bride just is exampled with perfect makeup and hair doing on her wedding day, isn't it? And that's why you are here! Let's discuss some of the popular and really elegant hairstyles that speak of perfection in an Indian wedding: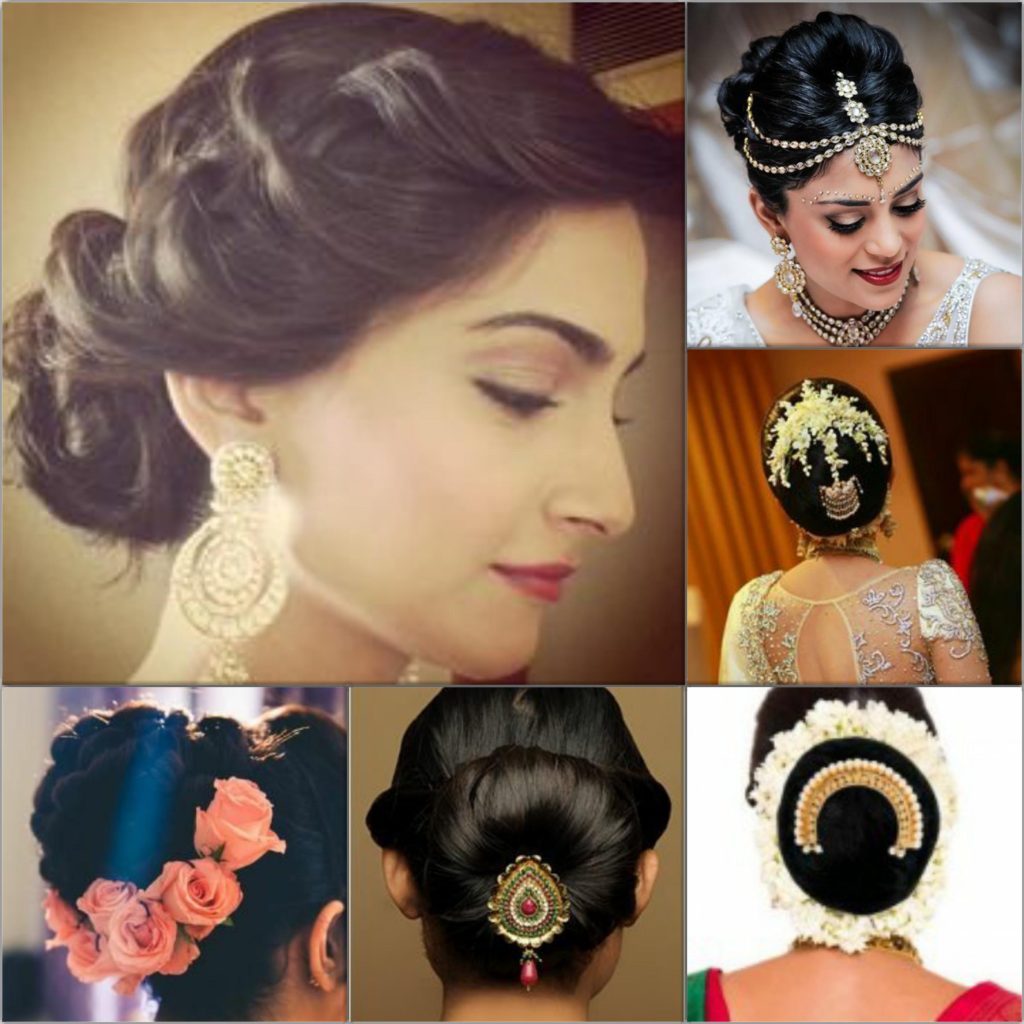 Hairstyles For An Indian Wedding | Image Resource : fashionandbeautyblogger.com
Top 5 hairstyles for Indian weddings:
1. Cress-Cross Flower Accented Bun: With a heavy Red dupatta on your head, you need support for the fabric to beautify your elegant look. And that's where hair bun is preferred. But it is important to traditionalize the hair bun too. With this hairstyle, your prettiness will be depicted neatly. So if you are wearing a Ghunghat, a neat and crisp hairstyle for you is a flower bun that helps you with a beautiful, perfect look that everyone will admire.
2. Curls on the side: So let's say you are not planning to wear a dupatta on the head. In this case, you do not need a bun. But in fact, you must beautify your long hair with bumpy curls that will reflect astonishing glow on your face. How about keeping those curl on your shoulder ide and flaunt with grace! Think about it! A green sari with curls on the side and your beautiful smile! And well, you don't need anything else with that!
3. Curly Tendrils Up do: So what do you really think of a curly bun? In my opinion, it goes with everything. Whether you are planning to wear a sari, indo western or a Lehenga, a curly uptight bun with curly frills winding with air gives a perfect classic look that enhances the shape of your face and beautifies your smile in the most graceful manner.
4. Loose Braid: If you have a long hair and if you are planning to a wear a silk sari, then nothing can look more graceful than a loose bun and tightening the end of the same on your beautiful waist line chain. And if you attach some beautiful beads on the braids, well that's like the cherry on a cake! It's your day, and you must look beautiful. And such a look reflects the simplicity in the supple fragment.
5. Messy Tiara Braid: A tiara on top makes you feel like a queen, isn't it? And especially if it's your wedding, you deserve to look like a queen of your king. So tying your hair with a messy braid and tiara on the head is an elegant pattern to beautify your make up and wedding clothes.
So why to settle for second best when you can look like a queen! A queen to not only for your king, but THE QUEEN in front of every guest invited to your wedding. So grab your diary full of wishes and note that favorite hairstyle you want to choose for your wedding. In the end, it's looking the best on your D day and you know you deserve it!