Oh the agony! When you have spent so much of your time deciding over whom you are going to call to your wedding and scrutinizing every details of your guest list, there will be someone who will show up uninvited. Of course the finalizing takes places after you have distributed all of your unique wedding cards that you had designed; to the people you want to be at your wedding. But if you were to learn how to deal with your uninvited wedding guests here are a few hacks you can apply right away!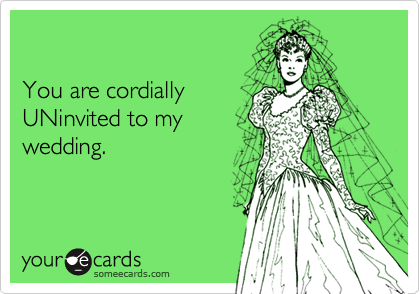 Hacks To Get Rid Of The Uninvited Guest | Image Resource : cdn.someecards.com
1. The term "wedding crashers" might just do fine to reference to these unwanted guests. If you see an unfamiliar face in the crowd, who could be your father's accountant or your mother-in-law's cousins who you have not even met before, it could lead to a crisis situation since you were probably not prepared for it. The best thing to do of course is go talk to them and ask them if you know them somehow. The awkward situation might just compel them to leave.
2. If you were to handle some unexpected guests to show up at your party it is best if you could just plan ahead of the situation. You should always be armed (not literally of course) and ready to face the problem of uninvited guests.
3. The people who show up at your party uninvited will stick out. They would be more interested in food and drinks rather than socializing with other guests, it would be quite obvious! You would have to ask any of your relatives to escort them out, or you could also have your venue manager do the same.
4. Seriously, the best thing to avoid a crisis situation like this is to ask your guests to show their invites when they enter the wedding. You did spend a lot of time designing your unique wedding cards, didn't you? So why let that opportunity go in vain. Just mention it in your card that during the wedding day they should bring the card as an invite. Of course the guests who did not receive a card will not be allowed to enter.
5. If you get a final call from one of your relatives saying that they could make it even though they had said that they wouldn't be able to earlier, the best thing you could do is save a seat for them from early on. If they cannot make it, that seat would just remain vacant but they at least wouldn't have to feel left out if they didn't even have a seat in the first place.
6. If by chance if any one of your relatives decides to bring the person they are dating, then you would have to arrange for one extra seat. Accommodating a couple more people wouldn't be hard, I mean... come on now Indian weddings are the epitome of big fat weddings!
7. If any of your cousin- sisters shows up at your wedding where she has got her little son or daughter then you would have to accommodate them as well. If however you don't want that to happen then you could arrange something that keeps the kids at the wedding busy so that the whole thing doesn't get messed up.
8. Now this might be quite uncanny in this list but an uninvited guest could also ruin your wedding day (talking about your acne of course)! That would be completely dreadful so to avoid that eat plenty of vegetables and drink tons of water. This will help you clear out the toxins from your system and give you a clear, glowing skin.
9. Ask your guests to confirm early if they do plan on bringing along a plus one with them. This would clear out a lot of confusion on your actual wedding day.
10. The last but not the least is if you do have a guest that you had not expected to see, all you can do is make them feel welcome at your wedding. It's a big day for you to celebrate and fussing over a guest or two isn't quite great.