Marrying a guy much older than you can sometimes create hype in the society, isn't it! But at the end, what matters is your love and understanding towards your partner. Talking about the same, here is the list of famous Indian celebrities who married an older man and cherish their love life: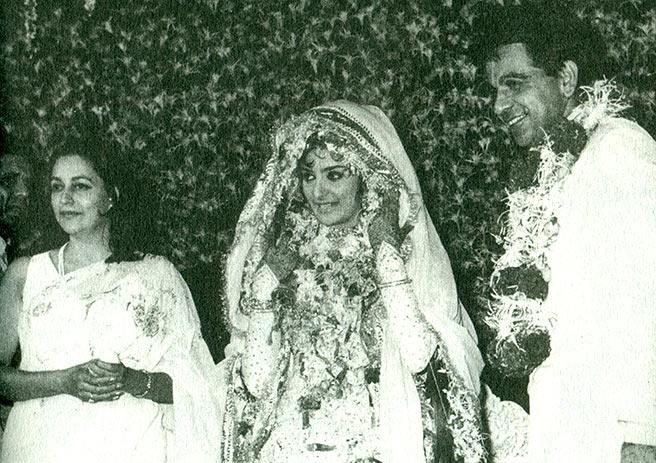 Saira Banu & Dilip Kumar | Image Resource : im.rediff.com
1. Saira Banu & Dilip Kumar: Well who doesn't know this famous couple! Dilip Kumar was madly in love with Saira Banu when she was just a young girl. Their secret to a successful marriage is the understanding between them both and how smartly they handle their age difference. Saira Banu is a classic woman titled under, "Beauty with brain" and Dilip Kumar is a romantic guy who everyone admires!
Sridevi & Boney Kapoor | Image Resource : img.thebridalbox.com
2. Sridevi & Boney Kapoor: A woman not only with beautiful features but with a beautiful soul too! She married a successful director and business man Boney Kapoor siphoning their marriage to a successful path of love, respect and understanding. It might not have been possible if they were not understanding and madly in love!
Twinkle Khanna & Akshay Kumar | Image Resource : photos.filmibeat.com
3. Twinkle Khanna & Akshay Kumar: A woman with passion towards writing and interior designing, and a man with a pure and beautiful soul. Well, that's what we call this couple. Irrespective of how busy they might be with their work, they always cherish their time spent together. Trust and respect is a key to a successful marriage, and that's what this couple reflects in their personal lives!
Kareena Kapoor & Saif Ali Khan | Image Resource : images.indianexpress.com
4. Kareena Kapoor & Saif Ali Khan: Even after being a center of talk in Bollywood, this couple never gave up on each other because of the true love and admiration towards each other. A happily married couple, now parents of a little boy is an inspiration to many couples with age difference. They have proved that love knows no boundaries !
Kiran Rao & Aamir Khan | Image Resource : img.thebridalbox.com
Sometimes love can be tough to testify to the society, but when your love is strong, there is nothing that society can do about! It's your life and your choice! And that's what the mentioned couples have proved to us! We might not understand the deepness of their love, but we do know how successful they are in their field as well as their personal lives! It might sound difficult, but at the end, love makes everything right. So If you are looking for inspiration to cherish your love, now you know where to look forward to.
Love is beautiful and knows no such thing as age difference. Love can do wonders, and there are couples who proved the same!