India as a country clings on to its rich heritage. Festivities form an important part in the lives of people here. Weddings are special private events where people spend their savings and turn them to mega events. Celebrities are known to organize their weddings in a grand scale and people watch out for such weddings. It is indeed a pleasure to witness celebrity weddings through social media and people look forward to get clippings of such weddings.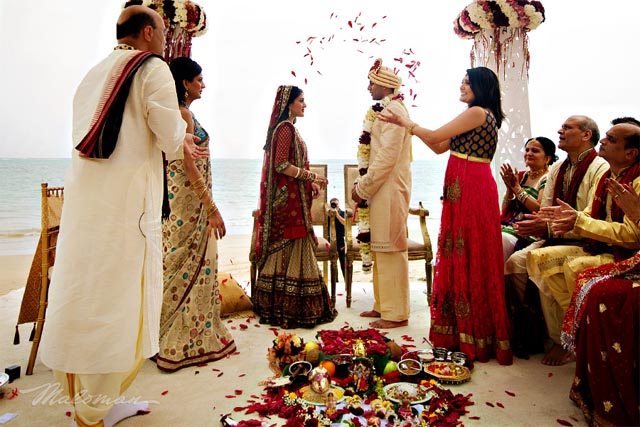 Big Fat Indian Wedding Scene | Image Resource : lassiwithlavina.com
Celebrities from sports and cinema often organize mega weddings. Some weddings are held at multiple locations. These weddings are fairy tale events and they are organized with the help of professional marriage planners. Right from the location to cuisine everything is thought about in detail and the very aim of these weddings is to make the guests comfortable. Some popular resorts are booked and guests are flown in to these destinations. Media coverage of the events lend a special attention to these weddings.
Weddings of film personalities are always mega events with the weddings being a two or three day affairs. Mehendi, sangeet and wedding are usually planned and the guest list may change for every function. Some celebrities plan a private wedding and throw a lavish reception. Now the trend has shifted to tying the knot at some international locations. Right from the card to the cuisine everything about these weddings remain splendid. They are so well planned in advance that each celebrity wedding celebration is unique.
With Indian celebrity wedding the emphasis is always on making a style statement. The cards are selected with much care and usually the guest list is decided upon in advance. For these weddings common masses are not entertained and the guest list also has celebrities gracing the occasion. Special swipe cards to enter the venue are distributed along with the cards to prevent the uninvited from entering the venues.
These weddings are often called as big fat wedding due to the money spent on these weddings. Usually these weddings are celebrated in style and they easily spend crores for the weddings. You can expect everything special for these fairy tale weddings. Though the invited guest list comes to around few hundred people the scale of events and its cost goes up. Invitees also expect special treatment when they attend such flamboyant weddings.
Udaipur with its lakes and palaces are generally chosen by celebrities for hosting their weddings. The other popular destination of the country is Goa. People prefer to have palatial weddings at Udaipur or beach weddings at Goa. Wedding planners at these destinations help plan lavish and luxurious weddings. Faluknama Palace of Hyderabad is also becoming popular. The affordability of these destinations is quite huge and ordinary citizens cannot afford such destinations.
These weddings provide great opportunities for wedding card designers, caterers, fashion designers and wedding planners. All these professionals work together to bring out the best celebrity weddings. Most famous Indian celebrities wedding offer great insight for people who would love to host such weddings. If you are invited to such a wedding never miss the opportunity and enjoy the fun.