Most of the women are quite attached to their bridal dresses. A wedding dress is the most important aspect of a wedding. Every woman wants to look perfect and a beautiful wedding dress can make her special day even more memorable and happy for her. In this post, we will be sharing with you some of the popular wedding dresses worn by the some of the famous personalities.
Amal Alamuddin
Amal Alamuddin | Image Resource : i3.mirror.co.uk/
The first one on the list is the dress wore by Amal Alamuddin. Amal looked stunning in the dress when she married the good looking actor from Hollywood "George Clooney". The dress was designed by Oscar de la Renta who is a top designer in the world.
Lauren Conrad
Lauren Conrad | Image Resource : kiss951.cbslocal.com
Lauren Conrad, the famous American television star married lawyer William Tell this year. She wore a very classic and simple looking dress which was designed by Badgley Mischka. This ivory wedding dress was rated amongst the best by the experts.
Kelly Clarkson
Kelly Clarkson | Image Resource : jasminegalleria.com
Kelly Clarkson is a famous singer who wore a beautiful and simple lace wedding gown and looked beautiful on her wedding day.
Kim Kardashian
Kim Kardashian | Image Resource : i.dailymail.co.uk
The wedding dress designed for Kim Kardashian during her second wedding is also considered amongst the best designed wedding dresses in the world. This dress was designed by Vera Wang the famous designer from New York.
Kate Moss
Kate Moss | Image Resource : tradesy.com/
Kate Moss married Jamie Hince in July 2011. Her old-school wedding dress by John Galliano was appreciated by many.
Charlene Wittstock
Charlene Wittstock | Image Resource : fashionfame.com
Charlene Wittstock became the princess of Monaco when she married Albert II, Prince of Monaco in 2011. Her Armani wedding dress was specifically designed according to the royal customs.
Kate Middleton

This was the most talked wedding of this century. Kate Middleton wore the beautiful dress designed by Sarah Burton when she married Prince William.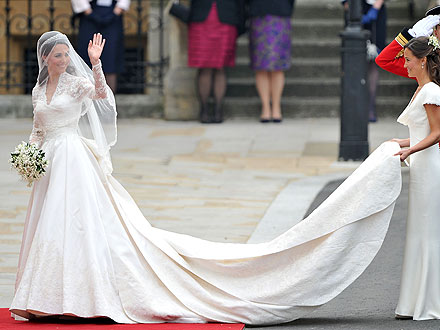 Kate Middleton | Image Resource : img2.timeinc.net
This article was written by our expert Indian wedding card designing team. Feel free to comment on the topic and share your thoughts.