Indian Wedding Dresses for 2021 | images.wedmegood.com
The selection of the wedding attire for the bride and the groom is a serious matter among all details of the wedding preparations. Indian brides usually wear lehengas or saris as traditional bridal dresses while grooms wear Sherwani or Dhoti-Kurta for their marriage ceremony. All these clothes need to be made of gorgeous fabrics, adorned with exclusive designs on the backdrop of vibrant shades.
Style trends noted in bridal wear for 2021
Bridal Wear for 2021
Though red is the prime color chosen for most Indian bridal outfits, many modern brides prefer other bright colors as well. According to reputed fashion designers, a few colors are quite trendy for bridal wear this year. Some designers have created beautiful lehengas in a lovely rose-red shade, to match both Indian tradition and the expectation of young brides.
Lehengas made of light fabrics are preferred now, as brides feel more comfortable in these wedding dresses. Their movements seem to be more elegant while wearing lightweight bridal wear with minimum embroideries. Thus, lehengas made of chiffon and georgette can be the trend of 2021.
If a bride does not wish to be loaded with too much jewelry during the wedding ceremony, her wedding dress can be of light golden color. In this way, she will still look gorgeous even without gold jewelry. Moreover, she will be able to wear this bridal dress even later in parties, due to its stylish appearance.
On the contrary, a bride may choose bridal wear of emerald green color if she intends to wear lots of gold jewelry with it. This shade of green has a luxurious feel and it renders a royal look to the bridal dress. Moreover, it is considered to be auspicious as per the ancient Indian culture.
Garnet or dark red shade is a popular color for making traditional bridal wear, as it makes the wearer look more gorgeous. This color fits perfectly in weddings held during the daytime as well as in the evenings. Thus, it is a popular choice for 2021, to make the brides look most stunning during their weddings held either in sunlight or under electric lightings.
Bridal lehengas and saris can be adorned with embroideries of multiple colors, to add grandeur to these outfits. Brides feel more jovial on wearing these colorful dresses embroidered with multiple-colored silk threads. Golden and silver zari threads are also often used to make the bridal wear more glamorous. The idea of stitching shiny pearls on the shades of light blue and pink is trendy for bridal wear in 2021.
The bridal blouse can have long sleeves in fashionable designs, which look elegant on slim-figured brides. These long-sleeved blouses match well with all types of bridal saris, irrespective of their colors and fabrics. Full-sleeved blouses also look elegant with designer lehengas for young brides. Moreover, this fashion trend goes with the conservative way of dressing that is an Indian tradition for brides.
Some fashion designers have successfully blended the light and dark shades of colors, to render a unique tone to bridal dresses. Brides do not need to choose between lighter and darker shades when they pick up this type of bridal wear. Generally, the border areas of the dress are in a dark shade while it becomes lighter towards the inner parts.
Double dupatta adds glamour to bridal lehengas, as the bride can use it as a veil and also let it flow down in an elegant style. Thus, it has become a popular fashion trend in 2021, used by many fashion designers.
Bridal saris are available in many fabrics, among which silk, satin, chiffon, and crepe are popular now. Fashion designers customize these saris with embroideries and net, to make the bridal wear more gorgeous as per the choice of their customers.
If the bride prefers lighter shades, she can wear a sari designed in the combination of the yellow, fluorescent shade of orange, and red. If she prefers a darker shaded sari, the combination of dark green, hot pink and beige can be a perfect choice for her. The borders of these saris can be adorned with pearls, to bring a more royal touch.
Net saris are designed by combining both light and dark shades of a particular color, to make the bridal wear more attractive. It is further beautified by adding embroidered floral motifs on the pallu of the sari. The blouse matches the shade used in the border of the sari, which brings a classy look.
Fashion Trends Seen In Groom's Attire For 2021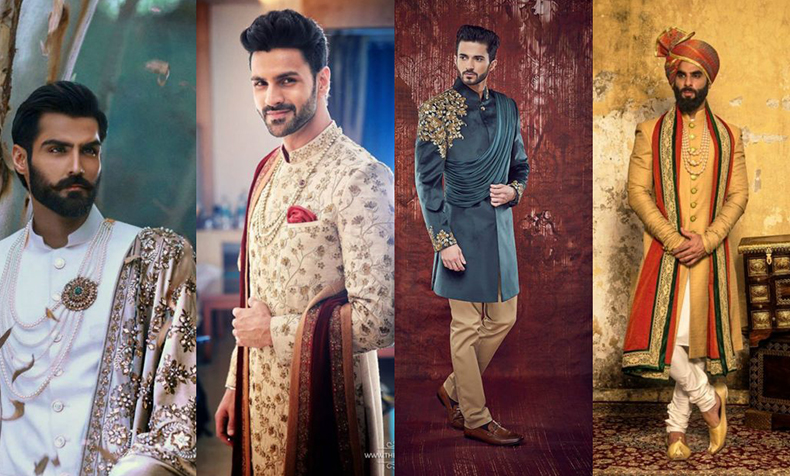 Groom's Attire For 2021
Embroidered silk Kurta is a common fashion trend for an Indian groom that is prevailing even in 2021. Usually, lighter shades are chosen to make these kurtas that are embellished with sequins and extensive embroideries.
Sherwani looks great with double stoles, which renders a royal look to the groom. The color of the Sherwani should be in a contrasting shade to the stoles and the churidar-styled trousers. Sometimes, an embroidered jacket can be added to the Sherwani, mainly for the one stitched in Anarkali style. The second stole should be of a darker shade than the first one, to make it distinctly noticeable.
A simple Kurta made of raw silk can be beautified with a jacket of the same length, which is adorned with different types of embellishments. This multi-colored jacket enhances the grandeur of the entire wedding attire and makes the groom look smarter.
If the Sherwani jacket is of very deep color, like maroon, dark green, or wine color; the trousers and the turban tied on the head can be white or of very light shade. The entire attire should be well-fitted to bring out the masculine aura of the groom.
Jodhpuri suit is ethnic wedding attire for men, which is popular even in 2021. It comprises a Kurta, a closed-neck jacket, and tight-fitting trousers. As it was originally the outfit worn by royal men of Rajasthan, many grooms prefer it as their wedding dress for its dignified look.
Thus, brides and grooms have plenty of choices when they need to pick up their wedding dresses in 2021.