Wedding Cake Ideas | chicvintagebrides.com
The day of the wedding ceremony is one of the most special and significant days that the bride and groom cherish for their entire lifetime. No matter how they choose to celebrate this day, be it with all their friends, family, and acquaintances or be it just a handful of their loved ones present, one of the sweetest memories of the day would remain the first time the couple is introduced as husband and wife.
The cutting of a cake in a wedding also helps to commemorate this special day as the bride and groom together cut and feed each other the cake while their loved ones congratulate them and cheer them on.
Why do couples cut a cake on their wedding day?
Cake cutting became a part of celebrations after the Victorian era where nobles would host lavish parties and weddings with cake cutting as part of its events. The tradition has now carried over to the modern age with cake cutting becoming a common ritual in weddings.
Unlike the olden days where cake cutting was used as a show of wealth, nowadays the cutting of the cake is more about showcasing the love of the bride and groom in their personal style. And less about showing it off as a status symbol or a ritual to foretell the couple's married life together.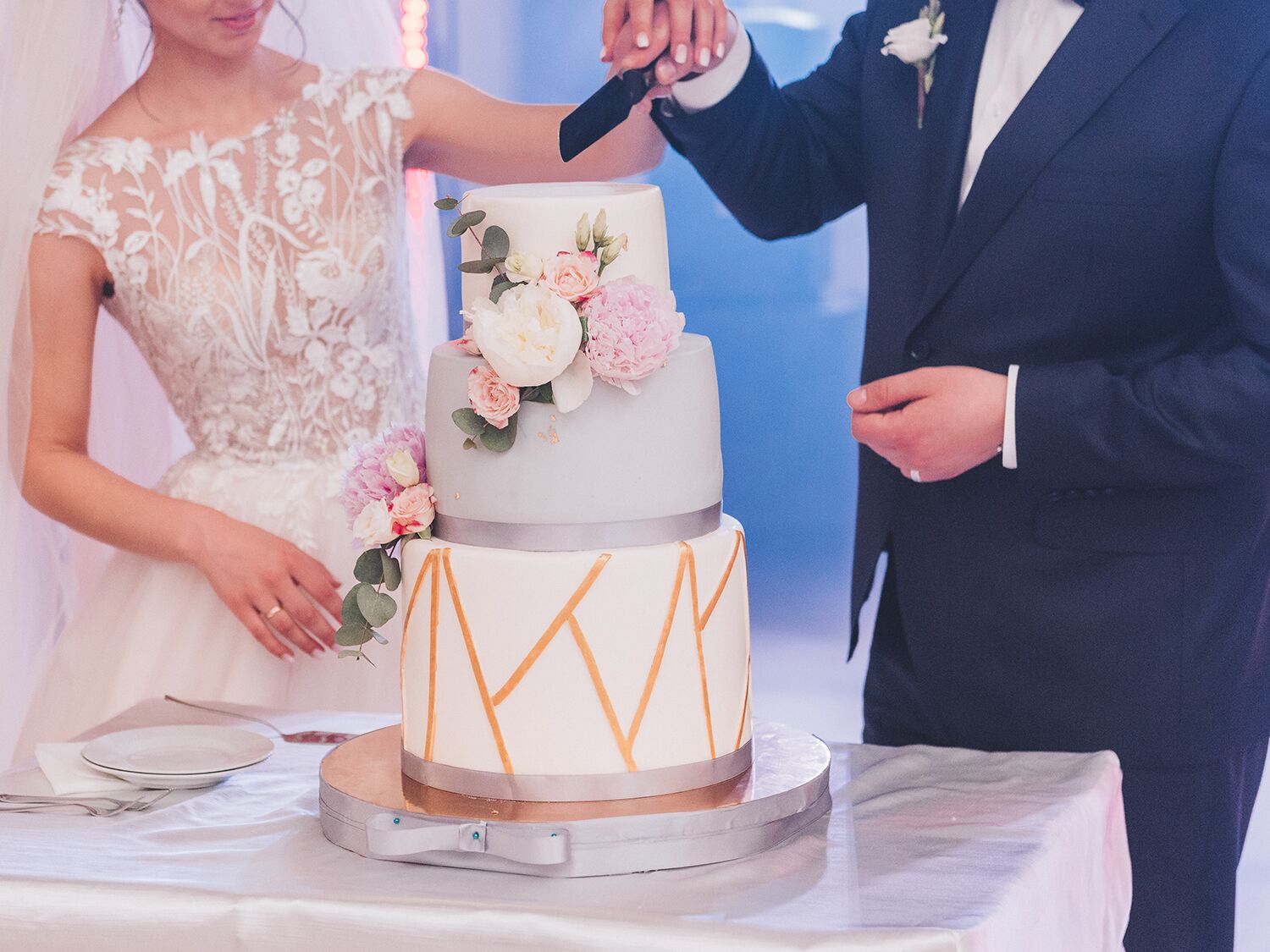 Couples Cut a Cake on wedding day | media-api.theknot.com
Evolving Wedding Cake Ideas and Professionals
Cakes ever since their introduction in weddings have evolved with time as per the trends or as a show of the bride and groom's wealth. Even though having a multi-tier cake with beautiful pearl white icing is the symbolic and traditional image that comes to our minds when we think of wedding cakes, it is also the stereotypical cake image that we see on cards and advertisements. But these days' couples often do not go the traditional way when it comes to their wedding cake. Some brides and grooms prefer to have a cake that embodies their personal style or have some significance to their personal lives.
Trending wedding cake ideas
Trending wedding cake ideas | loveinconfetti.com
Black and white cake: It is considered by many as a classic. It is well loved by many and highlights a traditional and sophisticated classic appeal. Such cakes are well liked by all and represent the formal nature of the event.
Boho influenced cake: Boho is renowned for its good use of flowers and sombre tones. In recent years, Boho cakes are increasing in popularity. With boho influences in its design, you can be assured to have a unique cake for your wedding.
Cake with gold foils: Gold is an appreciated mineral, and many consider a cake with gold foils very significant — influencing prosperity and good luck in the life of the couple.
Seasonal themed cake: Seasonal themes are great especially if the wedding is themed around the seasons as well. Decors can be designed with the season in mind using varied colours and the cakes can be made with flavours that showcase the season's produces.
Multi flavoured cake: Multi flavoured cakes are great if you like mixed flavours. It brings to the table some new and interesting flavours. If you are feeling experimental, a mix flavoured cake provides you the potential to be experimental with your taste.
Hand painted cake: Hand painted cakes are all the rage amongst artistic individuals as they showcase designs by very talented artists who paint their design on the cakes which is no short of any painting done on a canvas.
3D design: You must have seen cakes designed in the shape of a character or an object such cakes are known as 3D cakes and are very popular and well appreciated. The cakes are designed with models and designs that are 3D and allow several unique customisation possibilities.
Geometric cakes: A little for the modern taste, geometric design cakes are an oddity from the common design of cakes. However, they are well appreciated by many for appearing sleek, modern and above the usual traditional cakes designs.
Ombre cakes: For fans of colours and brightly layered and coloured designs, ombre cakes are great choices for those that love to showcase colours and aren't afraid to flaunt it. A perfect representation of couples with colourful personalities.
A movie or TV series themes cake: This is more in tune with couples who are approaching their wedding with a TV or movie theme. And couples who share similar passion and love for a particular show or movie can have their weddings and wedding cake design around the show or movie.
Go traditional: It is never a problem to turn to traditional designs, they are time tested and tried and are guaranteed to work as expected. Traditional cakes can also be quite varied with different cultures hosting different types of cultures and different types of cakes which one can use for their own wedding.
Fondant: Go crazy with the fondant as well skilled bakers are highly artistic with their usage of fondant and can create unique and interesting shapes and designs for their cakes.
Minimalism: An emerging trend with influence from the minimalism movement is the plain white cake. However, plain cakes can be quite boring and thus many often add textures in their white cakes or flowers to add an extra oomph in their already fantastic and beautiful cakes.
Ruffled cakes: Ruffled cakes are an interesting choice of cakes especially when coupled with plain cakes. The ruffled layers add an extra layer of sophistication and make your cake look unique in its design.
Sequin cakes: Wedding cakes designed with sequins are no short of any artistic masterpiece and it is almost illegal to cut the cake as it can be very beautiful with the carefully designed and added edible sequins.
Porcelain cakes: The porcelain cakes are designed to imitate fine porcelain pieces, with many having careful and well-designed artworks on them.
Rose cakes: Roses are considered by many as the flower of love, and the red rose especially finds itself represented as love in several movies and songs. Thus, why no on a cake. You might want to consider hiring an expert for this kind of cake as they require careful design.
Fruitful experience: Fruits are loved by many and fruits cakes are quite popular in several countries for different occasions so what's there to stop from using it for your wedding.
Pop art: Drawing influences from the later years of the previous century, pop art which gained popularity in the 70s are known for using colours and designs that have visuals that pop out in visual thus the name. Recently, it has also its influence amongst bakers with many experimenting with it to develop unique and fresh-looking cakes in bright colours and designs.
Chocolate drip: One of the most loved foods in the world, chocolate has been used in several recipes all over the world including cakes. Many over the world have favoured the flavour of chocolate over the plain white cream cake used in weddings frequently.
Unique shapes: The round stacked cakes are considered a classic choice when it comes to wedding cakes. However if you are looking for beyond the normal norm then why not invest in cake in a different shape. Changing the shape of your cake might seem like a minor change, however the visual appearance can significantly alter the feel of the cake.
Tips to choose your perfect wedding cake
Choose your Perfect Wedding Cake | img.thebridalbox.com
With the above wedding cake designs, you are well on your way to having a perfect cake for your wedding. However there are some tips one should be aware when purchasing.
When ordering your cakes, it is wise to make an estimate of the number of guests as you do not want to splurge on a large cake when the event is designed to accommodate only a few numbers of guests. This estimation allows you to spend more money in enhancing the taste and ingredients of the cake instead.
A common mistake during cake preparation is to use icing without paying attention to the environment and the room temperature. You want your wedding cake looking perfect and not a dripping mess.
Though one can go wild with the flavours, it is better to choose a flavour favoured by both the groom and bride. Even if experimentation is conducted make sure to conduct it prior to building the actual cake before the wedding.
A cake flavour and a cake icing needs to complement each other, though there are certain ingredients that are on opposing spectrums of taste yet are oddly complimentary. It is wise to seek the advice of experts in such matters.
When looking at wedding cake designs, make sure to set it in accordance to the theme of the wedding.
Always ask directions and advises from someone experienced in the handling and storage of cakes on how to store the cakes so it doesn't melt before it gets unveiled.
Make sure to remember these points and have a fantastic wedding.